Mach-1™ DC Output Solid State Contactors

(rated up to 2,000V and 500A per module)

Mach-1™ Solid-State Contactors(SSC) are specially designed modular switches capable of switching medium to high power DC loads up to 500A per module.
Mach-1 SSCs utilize the latest semiconductor technology including SicFET/GaNFET. They had been used for many advanced applications including those from NASA, GM, and Rockwell.

Unlike electromechanical contactors, SSCs do not wear, do not arc, and is the the only switch you will need for decades to come!
For switching >500Amp, check out our modular MAX-Q Series, or our >1,000A DC Solid State Contactor Assemblies.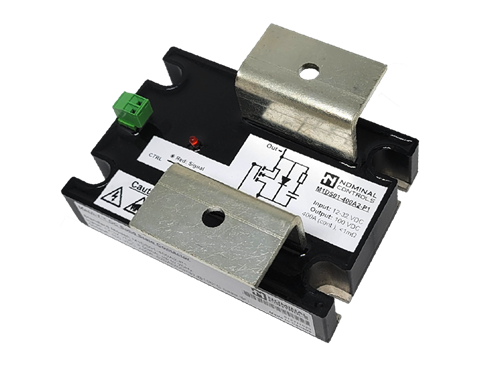 Link Modules to Scale Output Ratings

Last 100's Times Longer than Mechanical Units


Switch Up to 100 kHz with latest GanFET


Support CMOS/TTL/PLC and Other Logic Signals

To request the most ideal model suitable for your particular application, please click
button above to fill out a short technical survey
To see all currently available Mach-1™ SSC models, technical data, and guides, please click the button above.
Frequently Asked Questions
Can your solid state contactors reliably switch high DC current?
Absolutely! We have 100's of high power solid state contactors in service across many industries, including automotive, automation, and scientific research,
Some applications operated at well over 1000 Amps and 1000 Volts DC..
How do I select the right voltage/current ratings?
Is this part UL certified?
We use UL certified parts only, from terminals, epoxy, to the semiconductor itself.
If external UL marking is required, we may be able to accommodate this via field certification or other means. Please contact us for more details.

PATENT PENDING

RELIABLE DESIGN & CONSTRUCTION

MADE IN CANADA
SEMICONDUCTORS FROM USA