NEW!



Mach-1™ DC Output Solid State Contactors (for applications up to 1500V, 500A)

Following the success of our MAXQ™ solid state contactors (SSC) capable of switching 1000A+ DC, we are now introducing the latest Mach-1™ DC-Output SSC for switching loads in the 100A to 400A DC range.

Mach-1™ SSC shares the same semiconductor technology that has assisted many of our clients, including NASA, GM, Rockwell, and E-one Moli. It does not wear, does not arc, and is the only switch you will need for decades to come!
Two models are available:
1)Mach-1™ Standard Model operates just as a mechanical DC contactor.
2)Mach-1™ Fast Model is for PWM at up to 10kHz, or for switching ON/OFF in <20μS.

Support switching up to 400A & 1500VDC

Lasts >500x longer than mechanical switch


M1™ fast model switches up to 10kHz

models support CMOS/TTL/PLC signals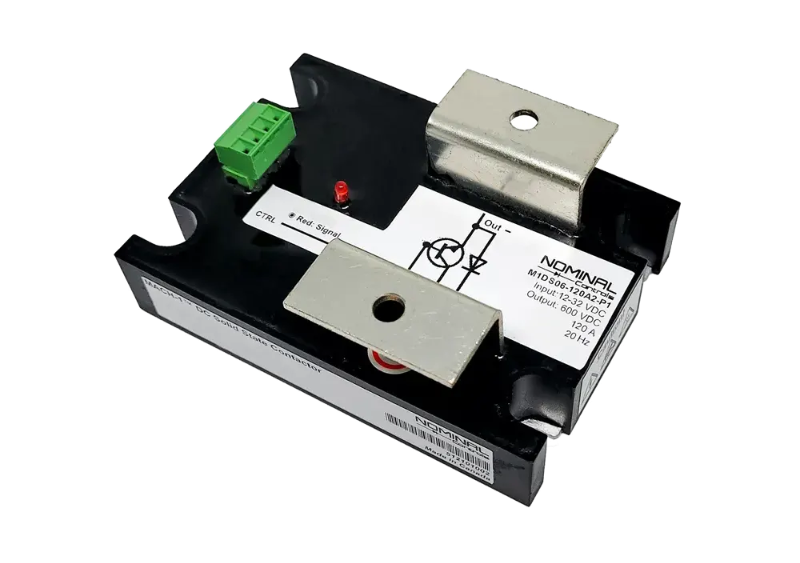 To request the most ideal model suitable for your particular application, please click
button above to fill out a short technical survey.
To see all currently available Mach-1™ SSC models, technical data, and guides, please click the button above.
Frequently Asked Questions
Can M1™ solid state relay reliably switch high DC current?
Absolutely! Our DC output solid state contactors has had proven success across many industries such as automotive, automation, and renewable energy.
Some of our applications operated at well over 1000 Amps and 1000 Volts DC(with MaxQ- Series).
How do I select the right voltage/current ratings?
Beware that different manufacturers may rate their device differently. Some devices although marked with high ratings, may not work even switching at 50% of the device's rating..

We rate our devices based on a very practical approach. If the specified rating is 400A of resistive current, you can be confident that the device can switch and hold 400 amps continuously in a typical resistive application.

You may directly request our recommendations here, by completing a technical survey.
Alternatively, you may contact us directly here to assist you with rating considerations.

Is this part UL certified?
We use UL certified parts only, from terminals, epoxy, to the semiconductor itself.
If external UL marking is required, we may be able to accommodate this via field certification of other means. Please contact us for more details.

PATENT PENDING

HIGH SWITCHING RELIABILITY

MADE IN CANADA
SEMICONDUCTORS FROM USA