Mach-1® DC Output Solid State Contactor


Wide Selection of Specs and Technologies


As low as 0.4mΩ ON resistance


Switch arc-free, noise-free, maint-free for decades

Semiconductor parts from USA/Taiwan

(rated 40V to 2,000V, 500A per module)
Mach-1® DC Output SSC features a standardized modular design. It's easy to use, and customizable. Mach-1 SSCs utilize the latest semiconductor technology including SiC and GaN for switching loads up to 2kV, 500A(continuous) and 1200A(5s surges).
 

There are Two Available Models:

 
    1. (M1DS- Series) Standard Model, a 2-wire input solid-state DC contactor that works just like electromechanical DC contactors.

 
 

    2. (M1DA- Series) Advanced PWM Model, can be controlled on a logic level and PWM up to 10kHz. This models enables new applications such as specialized load tests, high-speed circuit interrupt, and precision power controls.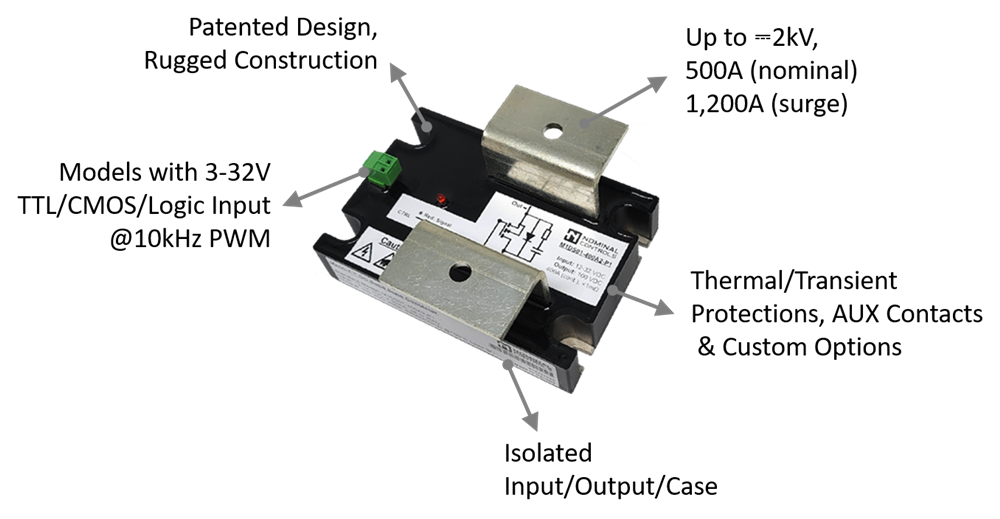 Frequently Asked Questions
Can Mach-1® solid state contactors reliably switch high DC current?
Absolutely! Their performance has been proven across many industries, including automotive, defense, aerospace, and scientific research.
Mach-1 DC solid-state contactors had been internally tested rigourisly including surge currents of up to 1600A.

How do I select the right voltage/current ratings?
You may consult us by completing a technical survey here. Alternatively, you may contact us directly here.
·      When switching constant current loads, ensure open circuit voltage does not exceed SSC's limits.
·      When switching motor loads, note both stall & inrush current can be 5-8x higher than normal.
·      When switching capacitive loads, ensure the initial short-circuit current does not exceed the SSC's surge-withstanding ratings.
·      When switching inductive loads, in addition to higher de-ratings, the user should take measures to suppress back-EMF transients (i.e. using freewheel diodes and snubbers). Note at high currents, even low to moderate inductance can generate unideal transient spikes.
MADE IN CANADA
Semiconductor Parts from USA/Taiwan