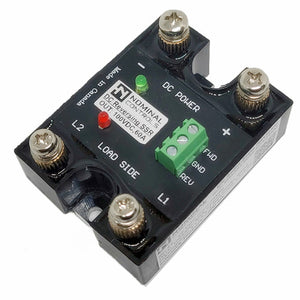 DRV- Series DC Reversingsolid-state relays offer a retrofit solution for conventional electromechanical reversers. With a solid-state H-bridge construction, the internal structure provides a natural discharge path for back-EMF generated at the motor's turn-OFF. This results in a switch that is maintenance-free, arc-free, and noise-free.
         The Miniature solid-state reversers are our latest ultra-compact model designed to provide cost effective and reliable switching for a variety of applications.

Sample Applications
Reversing of DC motors & actuators

Solar Trackers

Electrolysis of chemicals or Cathode/anode 

Peltier element temperature control
Features & Benefits
Benefits
Maintenance-free, Arc-free, Noise-free
Ultra-compact
Mechanically Assembled

Economically Priced

 
Features
Available Ratings Up to 200VDC and 60A
12-24VDC ~10mA control input

400Vrms Isolation, suitable for battery based systems

Built-in 200ms Interlock Protection

Made in Canada
Selection Guidelines:
You may submit a technical survey via https://www.nominalcontrols.com/pages/survey1, and a member of our team will get back to you with a recommendation.

The following guidelines are generally suitable for DC motors <2HP when using DRV-Series miniature solid-state motor reversers.
Choose SSR with "rated voltage" at least 2xhigher the operating voltage.

If the DC motor does not require plugging, choose SSR with "rated current"moderately higherthan the motor's inrush current.

If the DC motor requires plugging, choose SSR with "rated peak current" moderately higherthan the motor's plugging current.
When in doubt, a good rule of thumb is to choose a SSR with "rated current" 5-8x higher than the motor's nominal operating current.

Size a heatsink based on highest current that will sustains over 1 second. Typically, this is the stall current.
Always consider adding a snubber across load terminals. This will help to suppress transients.

Example:
Load: Thompson Actuator Part#:HD12B026-0450ELX1EESD
[Operating Voltage]: 12 VDC
[Rated Max Current (nameplate)]: 18A
[Application-Specific Details]: 5A (nominal current), 15A/100ms (inrush current), 18A (rated max/stall current), plugging is not required.

*if inrush current is not known, assume 7x the nominal current draw. Rated peak current of the SSR must be greater or equal to this value.
Choose DRV-Series DC Reversing Contactor:
with [rated voltage]: ≥30 VDC
with [rated current]: ≥2x 10A
with [rated peak current]: ≥18A

Datasheet and Downloads
| | | | |
| --- | --- | --- | --- |
|  Rated Voltage | Rated Load Current | Part # | Data Sheet |
| 40 VDC | 60A (150A peak) | DRVS004-60A3 | PDF |
| 100 VDC | 60A (150A peak) | DRVS01-60A3 | PDF |
| 200 VDC | 40A (125A peak) | DRVS02-60A3 | PDF |
 Contact us for other requirements.